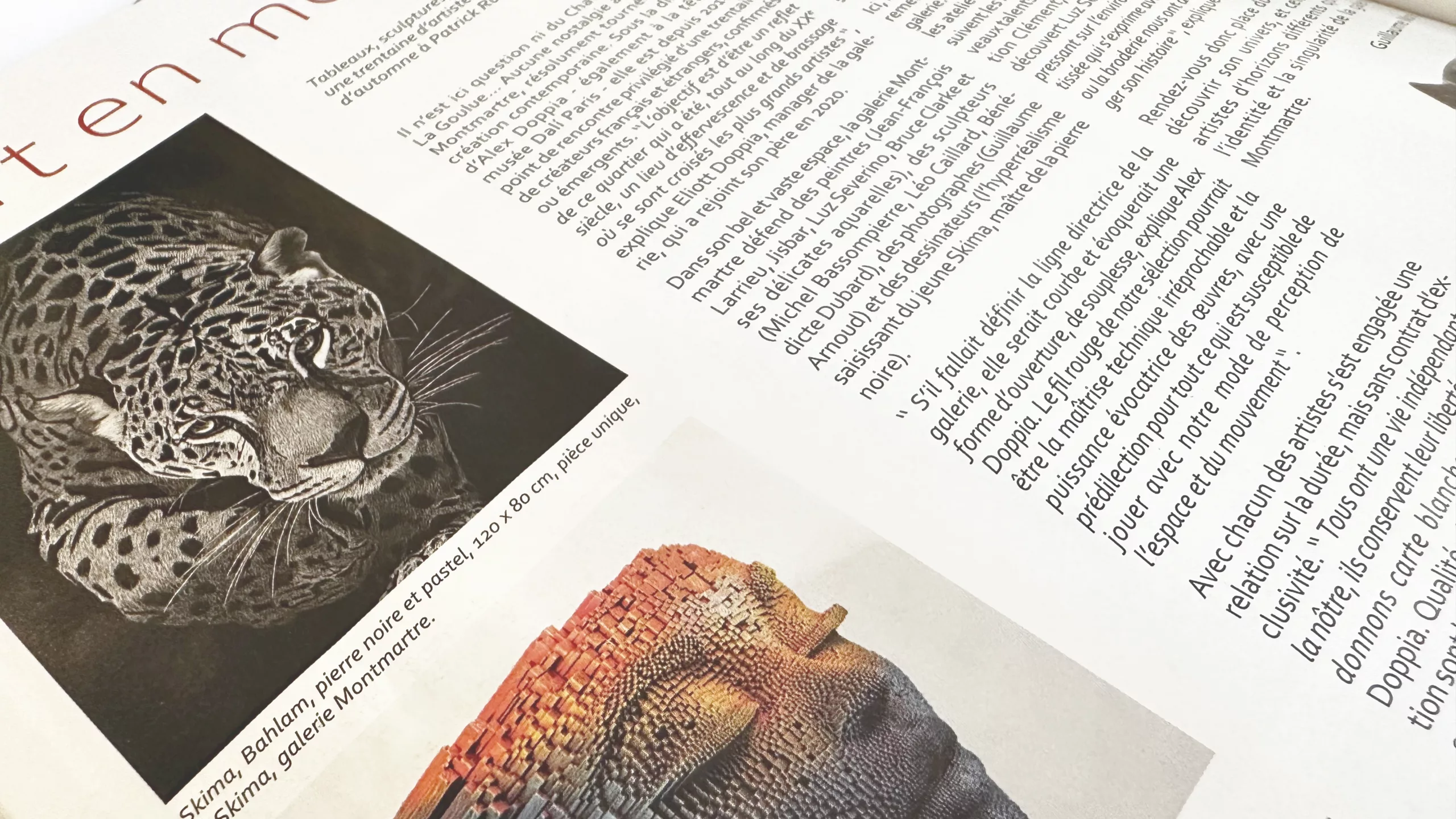 PRESS
Find all press articles and media talking about the gallery: printed press, online magazines, international media and art market specialists.
---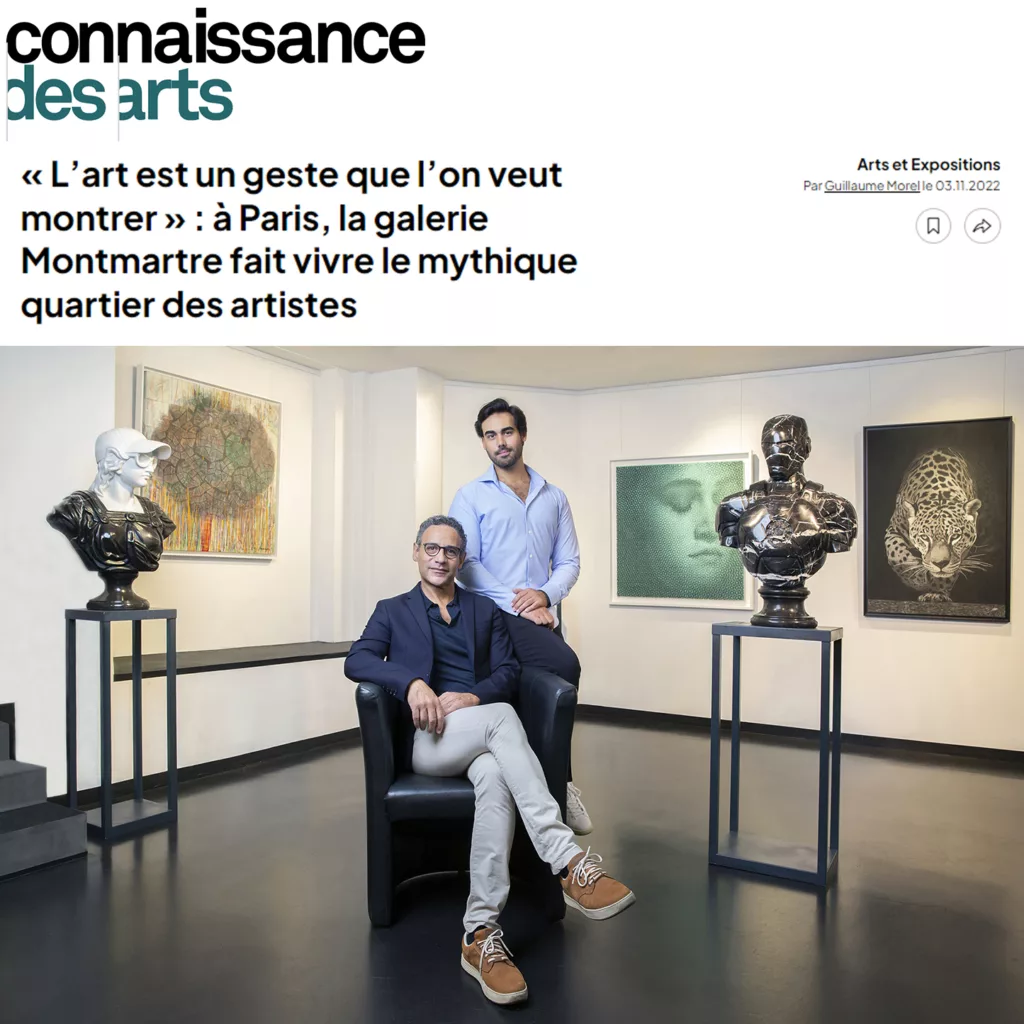 [FR] Interview: Alex and Eliott Doppia for Connaissance des Arts
2022
Discover the cross-interview with Alex and Eliott Doppia by French leading magazine, Connaissance des Arts.
Since its founding, the gallery has been a place of excitement and exchange for artists from all backgrounds. A vision which is expressed today through the transmission between two generations of gallerists, united by their love for technique.
---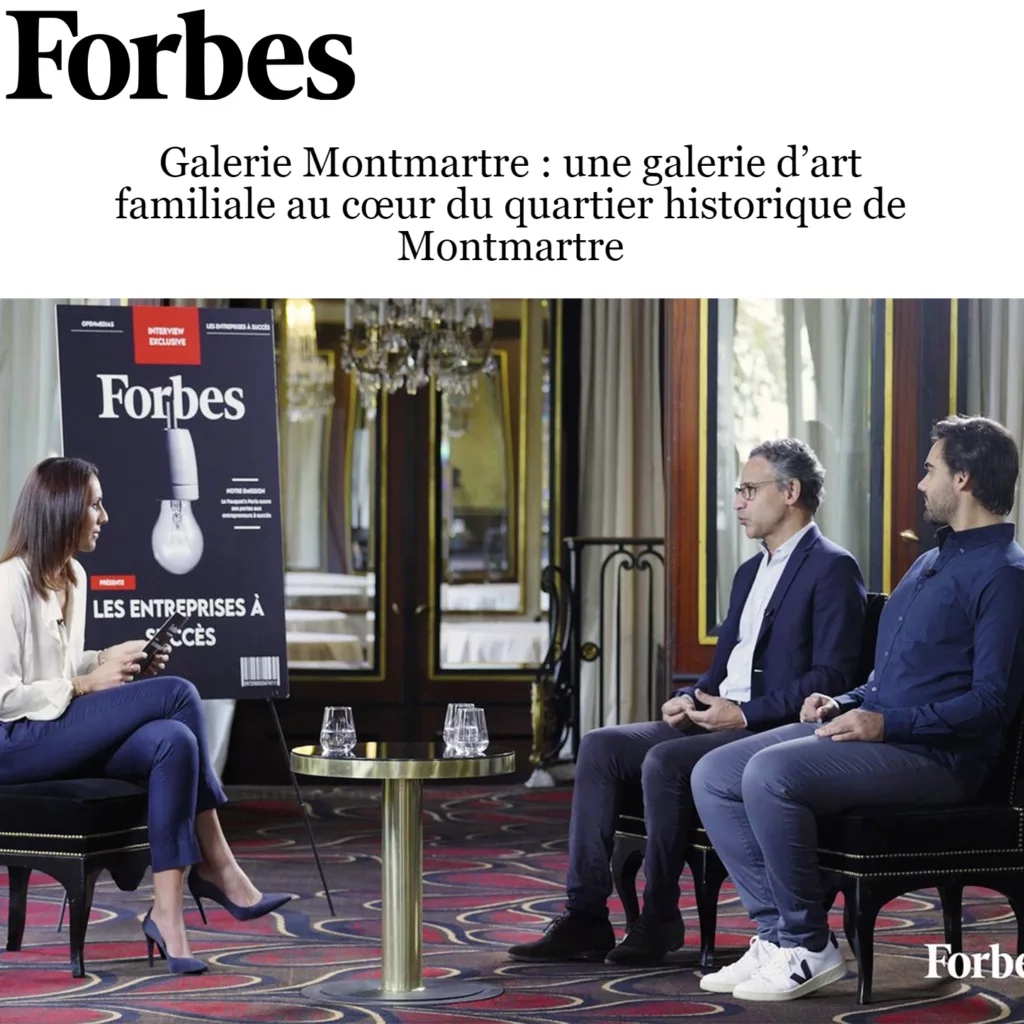 [FR] Video: Alex and Eliott Doppia for Forbes
2022
The gallery's first video interview goes to Forbes. The magazine first learned about the gallery's work on social media and got interested in its dicourse.
In this interview filmed at the famous Fouquet's restaurant in Paris, director Alex Doppia and manager Eliott Doppia discuss the positioning of the gallery, their artistic choices, their vision for digital art and NFTs.
---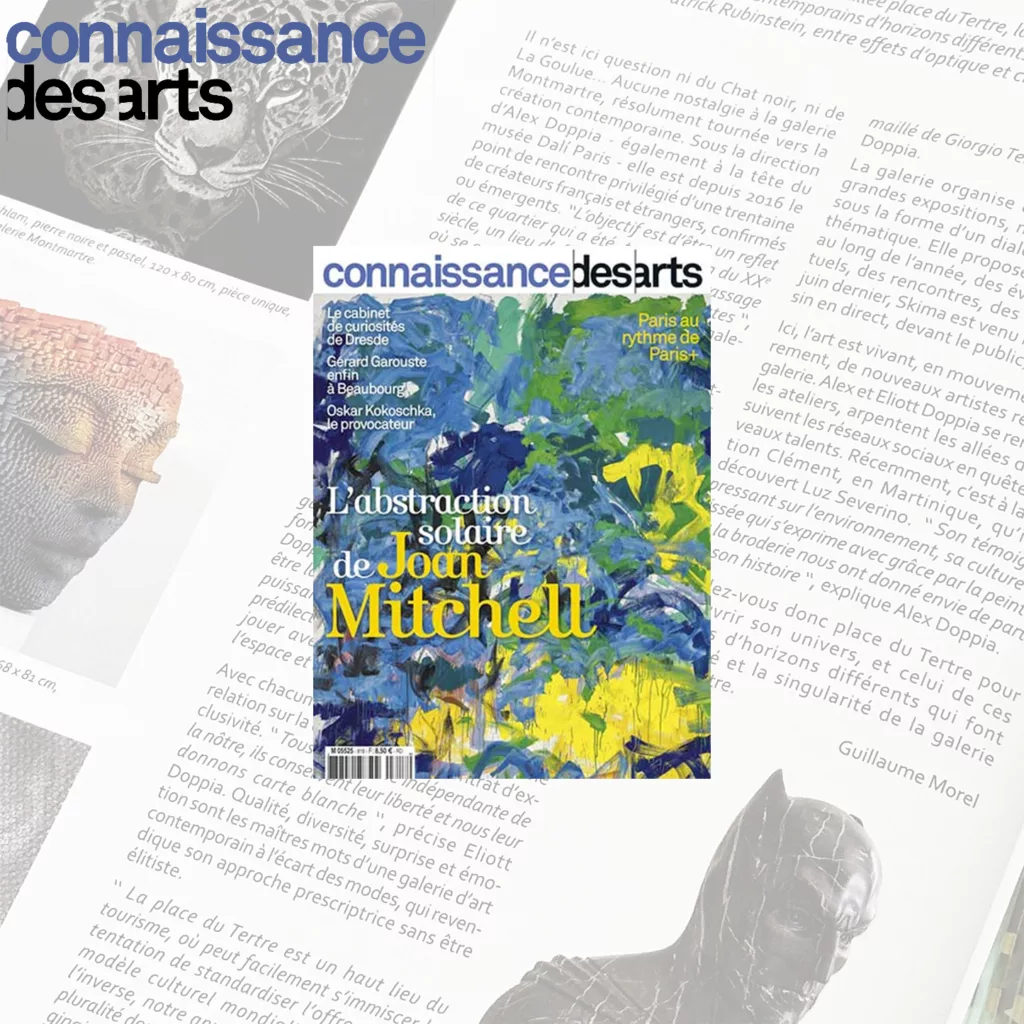 [FR] Full-page in Connaissance des Arts
2022
In this interview by journalist Guillaume Morel, Alex and Eliott Doppia address the identity and singularity of the Galerie Montmartre through its artistic selection. A dialogue between two generations, who complement and enrich each other.
This unprecedented spotlight from the leading French art magazine rewards the in-depth work carried out by the gallery team.
---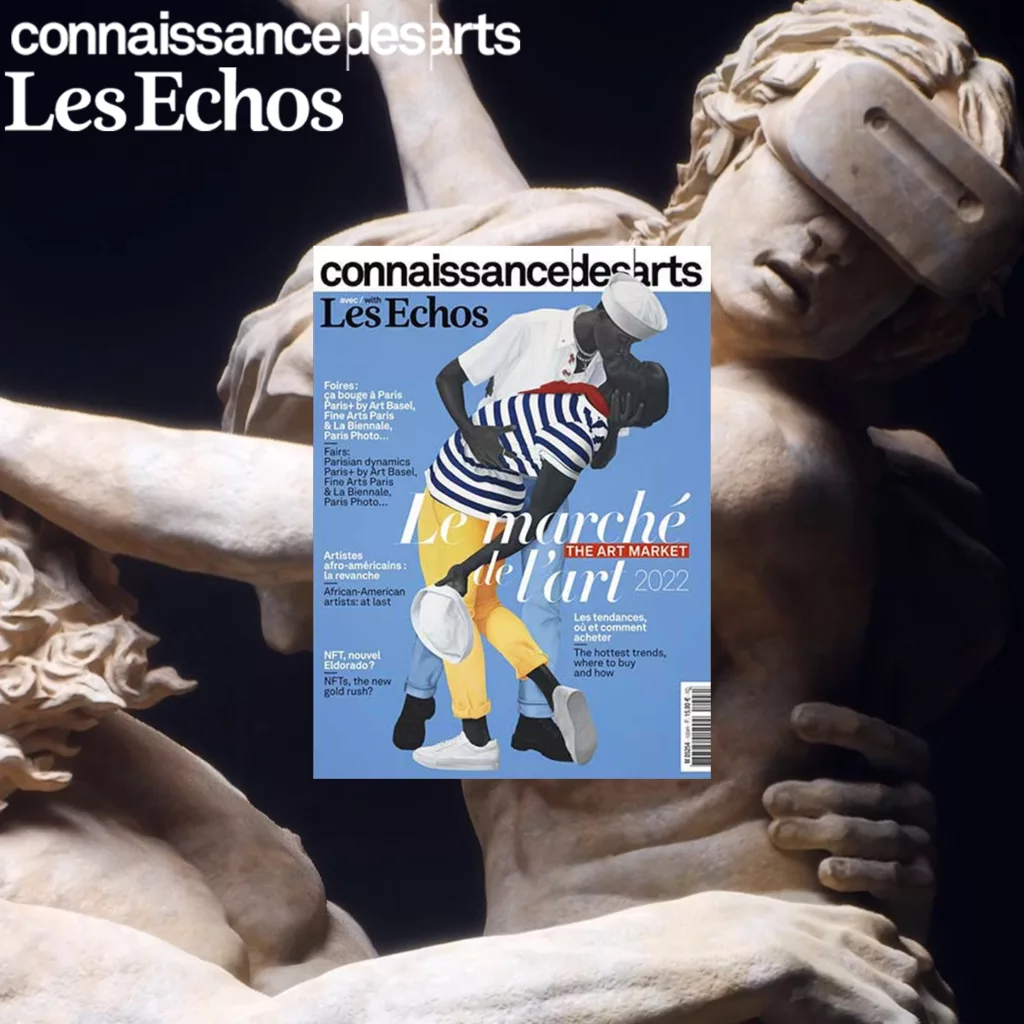 [FR] Léo Caillard with the Galerie Montmartre in 'Le Marché de l'Art' special guide
2022
The Galerie Montmartre in this first edition of the special magazine published by Connaissance des Arts and Les Echos.
To illustrate a section dedicated to the growing phenomenon of NFTs, she highlights Léo Caillard and his Love 3.0, an NFT inspired by The Abduction of Proserpina by Pluto (Girardon, 17th century).
Love 3.0 was sold at auction in March 2022 at Fauve, at the price of €15,600.
---
[EN] The Modern Met talks the new Face to Face exhibition
2022
American media My Modern Met published an article about the 'Face to Face' exhibition in April 2022. This event by the Galerie Montmartre brings together artists Gil Bruvel and Silvio Porzionato for the first time.
A dialogue between two international talents with different mediums but driven by the same passion for technique.
---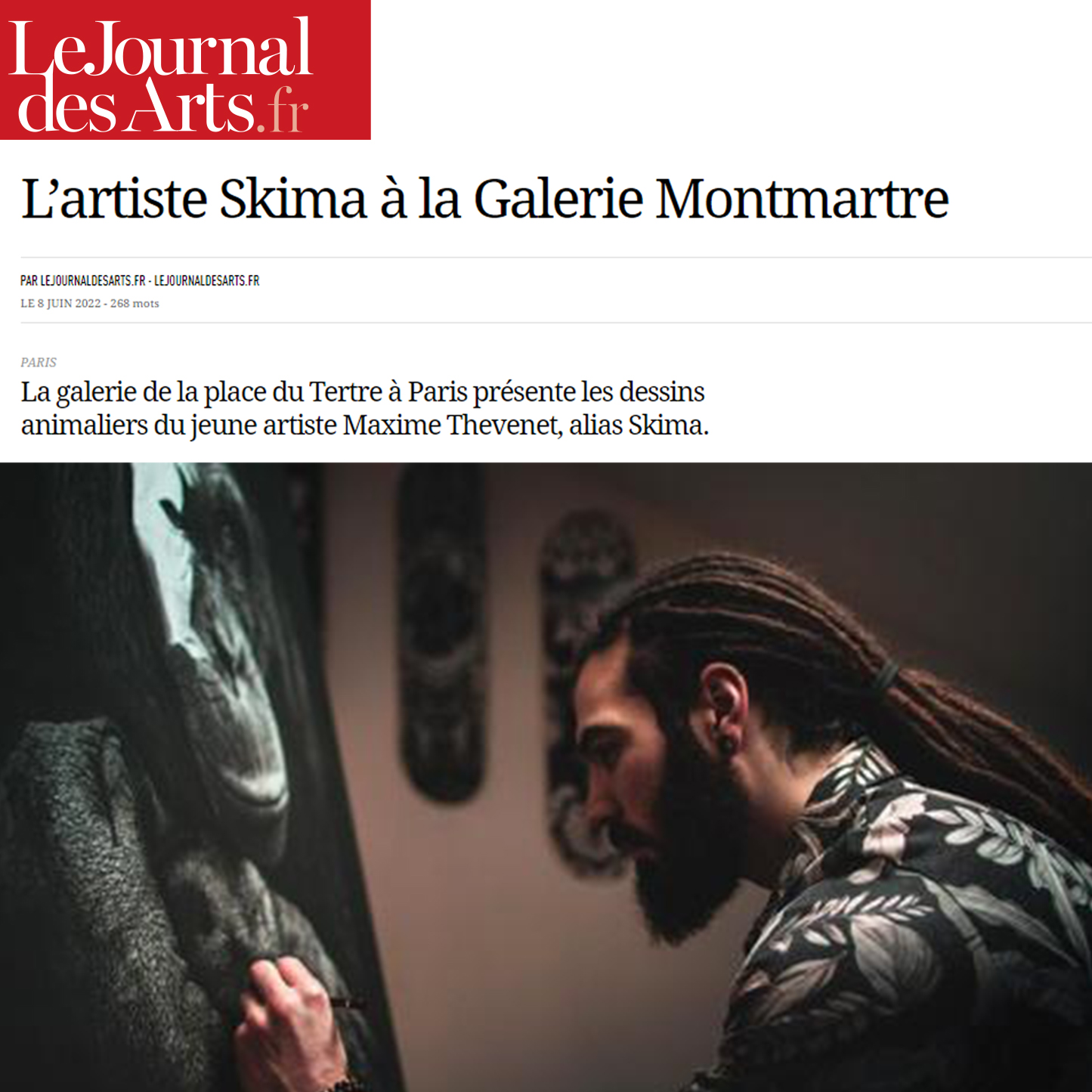 [FR] Young talent Skima joins the Galerie Montmartre
2022
In 2022, Galerie Montmartre announced its collaboration with French emerging artist Skima. This was the first time that the young talent joined an art gallery.
For the occasion, French magazine Le Journal des Arts devoted an article to Skima's arrival in Paris and the preparation of a first event.
---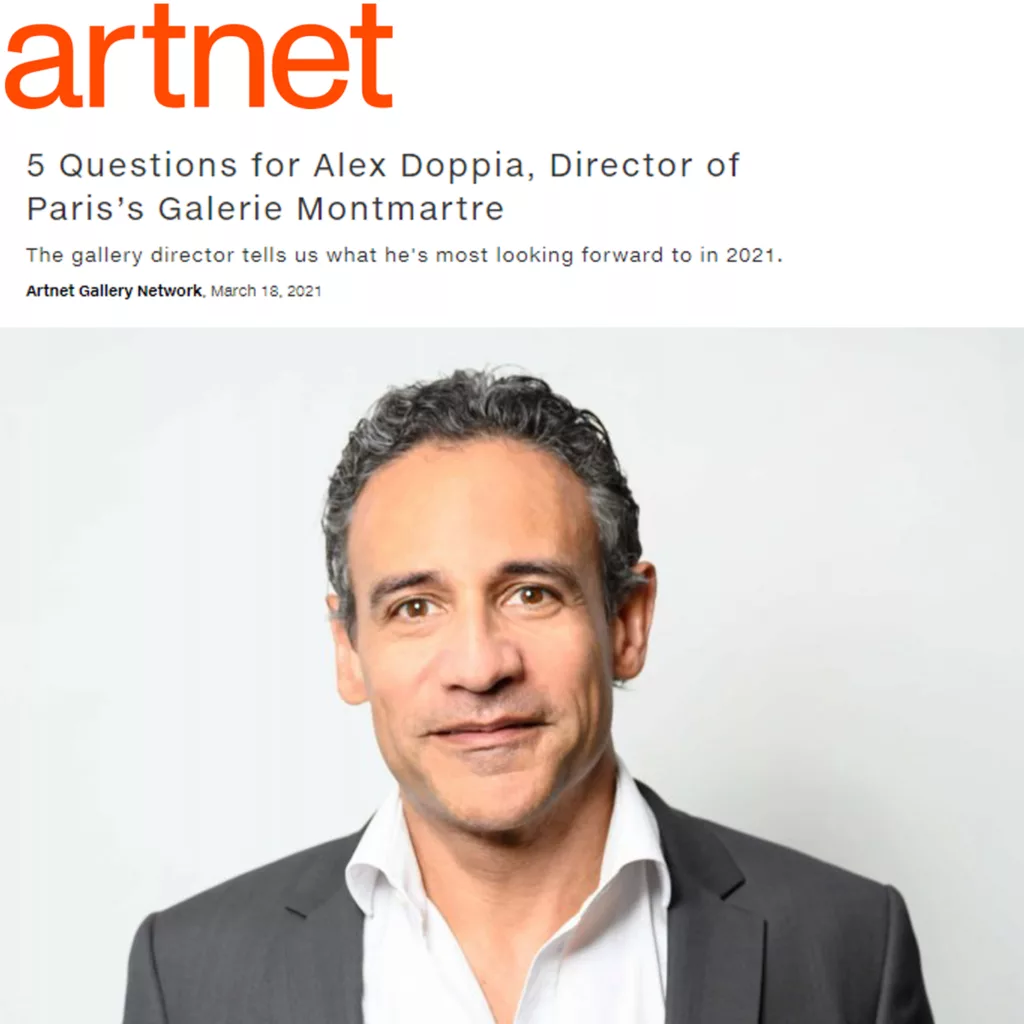 [EN] Alex Doppia shares his projects and expectations with Artnet
2021
The gallery Director is asked a few question by Artnet, the leading international platform dedicated to the art market.
He speaks about what he's most looking forward to in 2021.
---